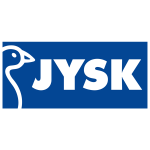 Jysk is a Danish multinational corporation. The retail network specializes in the sale of household goods: furniture, mattresses, interior and household items.
The company was founded in 1979 by Lars Larsen with the opening of the first store in Aarhus. Today it is the largest chain of furniture stores in Denmark and around the world. The company operates over 3,000 stores in 51 countries and employs around 24,000 employees.
The name "Jysk" comes from Jutlandic. On the logo is a goose, since the first store offered goods mainly for sleeping with natural content.
Jysk is owned by the Lars Larsen Group with an annual turnover of over 3.5 billion euros.